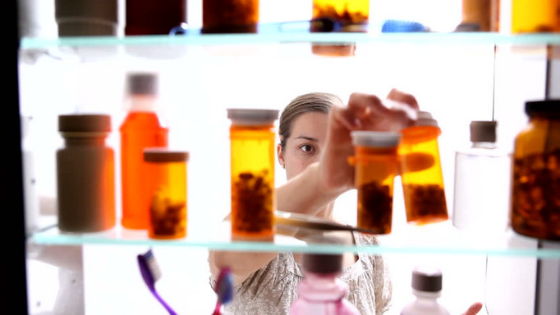 However conveniently located your apartment may be, it's no fun having to dash out for essential medical supplies if you're woken by a severe headache in the early hours of the morning or find yourself bleeding after an accident in the kitchen.
So it's worth taking a little time to put together a first-aid kit to be kept in your bathroom cabinet or somewhere else that's easily accessible.
There's an almost endless list of items that might be included, and your choice will, of course, depend to some extent on any particular medical issues you have.
But there are some things which no home should ever be without, and we list a few of the most important here.
Pain Relief, Coughs, and Colds
A quick glance at the shelves of your local supermarket or pharmacy will reveal a bewildering variety of brand and generic painkillers. But there are really only two types of which you need to be aware.
Acetaminophen is an effective general pain reliever and fever reducer for use in the case of headaches, sinus pain, colds, flu and the like. Anti-inflammatories, such as ibuprofen, may be more helpful in some cases of joint or muscular pain, so it's worth keeping a stock of both for use as the situation demands.
Decongestants and cough syrups, which often also contain acetaminophen, are useful additional items to have on hand in the case of colds, sore throats and sinus issues.
Stomach Upsets
A wide range of over-the-counter medications are available for dealing with common digestive issues such as acid reflux (heartburn), nausea and diarrhea, and it's a good plan to keep a variety in your cabinet to cover all eventualities.
Cuts And Burns
A significant proportion of all accidents happen in the home, and cuts, burns and scalds, often sustained in the kitchen, are particularly common.
Band-Aids, gauze and bandages will cope with most minor cuts and grazes, but it's also a good idea to have some antiseptic liquid and antibacterial ointment on hand to help reduce the risk of infection.
Even minor burns and scalds, including sunburn, can be extremely painful, but the application of soothing aloe cream or gel, in addition to cold water, can provide a significant measure of relief.
Skin, Allergy, and Insects
Modern heating, ventilation, and air conditioning systems can produce very dry air in the home, which is often reflected in dry, itchy skin conditions. These can also be caused or exacerbated by seasonal and other allergies.
For simple itchiness, a combination of an emollient and a hydrocortisone-based cream is usually a quick and effective remedy. But if allergies are the culprit, it might be worth adding an antihistamine cream to your cabinet, and you can also include antihistamine drops if irritated eyes are a problem.
These remedies are also helpful in the case of common insect bites, but prevention is better than cure, so depending on the climate where you live, you may also want to keep some repellent by your front door or balcony.
Find Out More
All of the above items are inexpensive, easy to obtain and will take up little storage space in your apartment. But having supplies ready to hand is great for your peace of mind and may just help prevent a minor medical issue from developing into something more serious.
You can schedule a tour or learn more about living in the Plantation apartments in The Woodlands, Texas, by calling us at (866) 792-6794 or sending us a message online here.