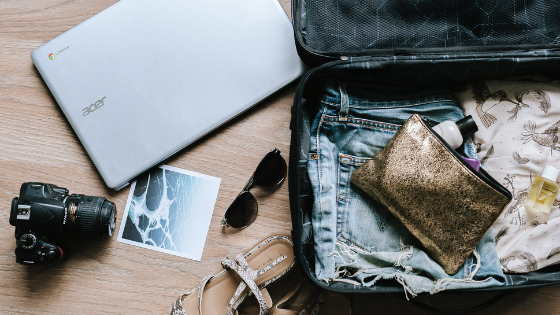 Anyone who frequently travels for work or recreation understands the value of packing efficiently. Not only is a well-packed bag less cumbersome and space-saving, but when you travel by air, it can save you a significant amount of money. If you will soon be planning a trip from your Woodlands, Texas apartments to some destination and are interested in tips for saving space and money, here are some ways to pack more efficiently for your trip.
Pack Small Items Inside Shoes
Smaller items like underwear and socks can be stored inside plastic bags and placed inside of shoes you will be taking along. If there is any concern about foot odor, include a dryer sheet in the shoes or plastic bags.
Roll Instead of Fold
Rolling items instead of folding them can make better use of space. Items like T-shirts, casual shirts and even pants can be rolled and packed inside a suitcase or duffel bag. Large rubber bands can help to keep clothing neatly rolled while you travel.
Plan Ahead
One of the reasons people over-pack is they wait until the last minute and don't spend enough time thinking about what they will really need on the road. Planning ahead and knowing the minimum you should take can help. If you will have laundry access while traveling, you may be able to pack even less.
Use a Smaller Suitcase
Just as using smaller dinner plates can help a person on a diet, a smaller suitcase can help those who struggle with over-packing. Know what the airline allows you to take under its guidelines and act accordingly.
Wear Heavier or Bulkier Items
When traveling to a location that has cooler weather, wear bulkier items like sweatshirts, jackets or coats. Many of us have seen travelers unpacking bags at airports to reduce baggage weight by wearing multiple items. It is far better to plan ahead.
Consider Buying Items on the Road
When fees start exceeding forty or fifty dollars per bag, it may be more practical to use that money to buy some items on the road. This may take some thought and planning but can be more efficient than over-packing and incurring expensive additional baggage fees.
The trend now is to save space and only keep things that "give us joy." The same is true for living in Woodlands apartments and houses as well as when traveling. Pack more efficiently and have more joy and spend less when traveling.
Do you know someone who would enjoy living in an efficient environment? Contact our Woodlands apartments today!