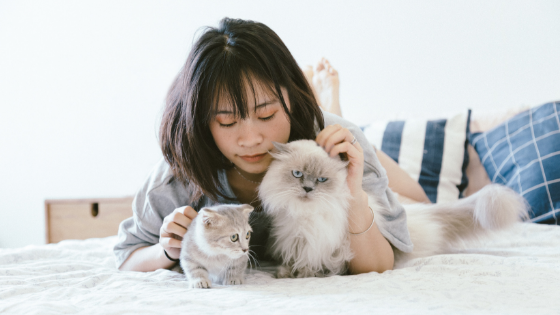 Bringing home a cat to The Woodlands apartments means you are taking responsibility for the happiness and health of your new pet. By taking measures to keep your cat healthy, you are able to make your home a comfortable space for the newest member of your family.
Play With Your Cat
Boredom is a problem for many house cats. Your pet is not exploring the wider world and has a limited amount of space. You want to break up the monotony of a house cat's life by providing fun games and activities to keep your cat active and engaged.
Provide your cat with a scratching post and plenty of toys that allow your cat to climb and play. Play with your pet each day to get your cat moving and encourage his or her instincts to hunt. Do not allow your cat to get bored, since that may cause stress, obesity and other concerns.
Provide Plenty of Fresh Water
Fresh, clean water is an essential part of encouraging your pet to stay healthy. Give your cat a fresh bowl of water each morning and evening. If your cat does not seem to drink water from a bowl, then consider a cat fountain. The fountain allows your cat to drink water without bending over. It is particularly ideal when you have an older cat or when your cat refuses to drink from a traditional cat bowl.
Make sure your cat is drinking enough water for good health. Regular water will prevent urinary tract infections or other health risks. Pay attention to your cat's behavior and make a note of any deviations from normal habits, particularly if you notice that your cat refuses to drink water.
Visit a Vet Regularly
Do not ignore the value of visiting a veterinarian. Make sure you visit a vet regularly to check on your cat's health and situation. A regular vet visit will help you catch potential problems early and identify ways to improve your cat's health. A vet may also recommend solutions for odd behaviors or concerns that may arise at different stages of a cat's life. You can also ask for advice about caring for your cat if you are not sure about the right method to handle your cat's needs. Vets give you the information you need to keep your cat active and healthy as well as treatments for any medical concerns that may arise.
Keeping your cat healthy in apartments in The Woodlands starts with ensuring your cat has the right toys, food, water and care to address any concern. To learn more about keeping a cat healthy or to see an available rental, call or contact us today.