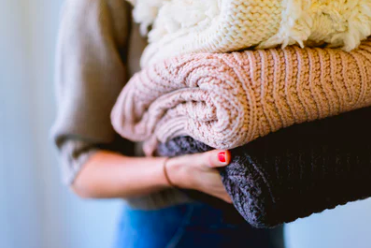 Whether you love doing laundry or it's simply a chore to slog through, having a clean and well-organized laundry room can really make a difference in your day. Laundry rooms can quickly get overcrowded with folded laundry, cleaning supplies and extra pieces of clothing — not to mention shoes and other items. These top tips will have your laundry room looking organized and spacious in no time!
1. Utilize Every Corner
Corners don't have to be wasted space. Utilize every square foot when you place shelving units in unused corners. This gives you a little extra space to store cleaning supplies or other seldom-used items.
2. Stack 'Em High
Is it possible to put a pedestal under your washer and dryer set? If so, you might be surprised by how much storage space you gain with this simple twist on a traditional laundry room. Plus, you can always add shelving units to the walls to compartmentalize your items and keep them neat.
3. Segment Your Space
Does it feel like everything is flowing together — and on top of other items? Segmenting your space may help you maintain an organized feel in smaller rooms. Designate specific corners for folding, storing and stacking items. An ironing board that folds into the wall can help free up space, and bookshelves can easily be repurposed to make little cubbies for shoes or other small items.
4. Separate Items Early
Not everyone has space in their laundry room to hold multiple loads of clothing at once. When you take advantage of a three-piece hamper, you can separate clothing by color before you bring it to your laundry room. This helps cut down on clutter and stops you from continuously moving items from one place to another as you work.
5. Fold It Up
Need to find space to dry your delicates? A folding drying rack is an easy option that is inexpensive, too.
Finding your ideal apartment is only a click away! Check out why Woodlands, Texas residents voted The Plantation at The Woodlands a Top Pick in 2018 for Resident Satisfaction. From our unmatched level of service to our resort-style pools and plenty of extras, you are sure to find the home of your dreams at The Plantation at the Woodlands.