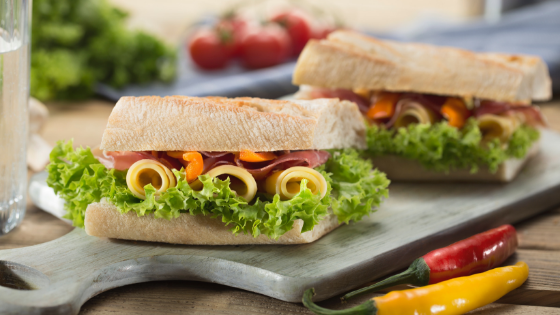 Eating well and staying fit are good priorities. That's why we hope our Plantation at Woodlands residents in The Woodlands, Texas, enjoy these healthy sandwich options.
Tuna Avocado Wrap
Perhaps the biggest drawback to including sandwiches as one of your healthy menu items is the carbs from bulky bread. Fortunately, tortillas help reduce carbs as well as calories.
Gather These Ingredients
10 ounces solid white tuna in water
1 ripe avocado
2 tablespoons lemon juice
1 tablespoon olive oil
Black pepper
2 scallions (diced)
2 cups baby spinach
4 tortillas (10 inches)
Mix together the tuna, lemon juice, oil and scallion with 1/2 teaspoon of pepper. Add sliced, peeled avocado and mix lightly. Portion out the baby spinach and equal parts of the tuna-avocado mixture onto the wraps and roll them up.
Vegetarian Goat Cheese Wrap
This delicious combination of veggies topped with goat cheese is likely to attract even serious carnivores. Its low-calorie, low-fat and high-fiber qualities make it a flavorful menu option.
Gather These Ingredients
1 large ripe red pepper
2 portobello mushroom caps (sliced)
30 ounces chickpeas (drained)
2 tablespoons virgin olive oil
1 teaspoon salt
2 lemons (quartered into wedges)
8 ounces baby spinach
1/2 teaspoon black pepper
2 ounces crumbled goat cheese
4 soft taco wraps
Place the mushrooms, red peppers, olive oil and salt in a bowl and toss. Then put the mixture on a baking pan and roast at 450 degrees for 25 minutes. Mash the chickpeas, season with pepper, add the juice from four lemon wedges and mix. Place equal portions of baby spinach on the taco wraps, add the chickpea mix, and top with the roasted veggies and goat cheese. Squeeze the juice from the remaining lemon wedges onto the mixture and roll up the wraps.
Minty Fresh Finger Sandwiches
If you are concerned about the calories in a full-sized sandwich or wrap, these finger-sized delights may be just the solution. There's no reason to sacrifice taste with size, as this recipe proves.
Gather These Ingredients
8 ounces fresh peas
1/2 cup crumbled goat cheese
3 tablespoons plain yogurt
1 teaspoon salt
1 teaspoon pepper
3 tablespoons fresh mint (diced)
1 tablespoon chives (diced)
Favorite sliced bread
Remove the crust from your bread of choice and cut into quarters. Place all the other ingredients in a food processor and blend thoroughly. Spread the mixture onto a slice of bread, top with another slice and enjoy.
We hope our Plantation at Woodlands members finds these fall sandwich suggestions helpful. If you or a friend would like more information about our Woodlands apartments, call us today.